One of the most beautiful and well-known metamorphic stones is marble. This rock with its eye-catching texture is one of the best choices for different types of decorations. Marble means "the shining stone" in ancient Greek and it can be found in various types such as black, white, pink, etc.
These unique stones can be used in any situation such as designing the room, office, or the outsides of a house or a building. They are especially popular to be used as countertops and there are lots of different and attractive styles of the white marble countertops on the internet and social media. In this article, we try as best as we can to inform you of anything that you need to know about white marble countertop.
What are white marble countertops and how are they produced?
If you are looking for a suitable texture to design your house, we suggest white marble countertop. This astonishing style is timeless, always in fashion, and will never get old or boring. Marble is made out of limestone. Heat and pressure cause the shining and luxurious surface of this stone which makes it useful to many sculptors and architects. Many famous artifacts and mind-blowing masterpieces are made out of marble stones that will take your breath away and you cannot take your eyes off them.
Why use white marble countertop?
Unlike many other stones and rocks that people use to design their houses or offices, marble is different. You will never get bored looking at the beautiful white marble countertop, and also white marble is much stronger than many other options. Besides, white marble countertops are quite easy to match with other kinds of stuff in your kitchen or restaurant.
You can make the place relaxing and comforting by mixing it with light tones such as grey, cream, or latte. Plus, using more alive colors such as orange, green, or red with white marble countertops would also give a different atmosphere to the room.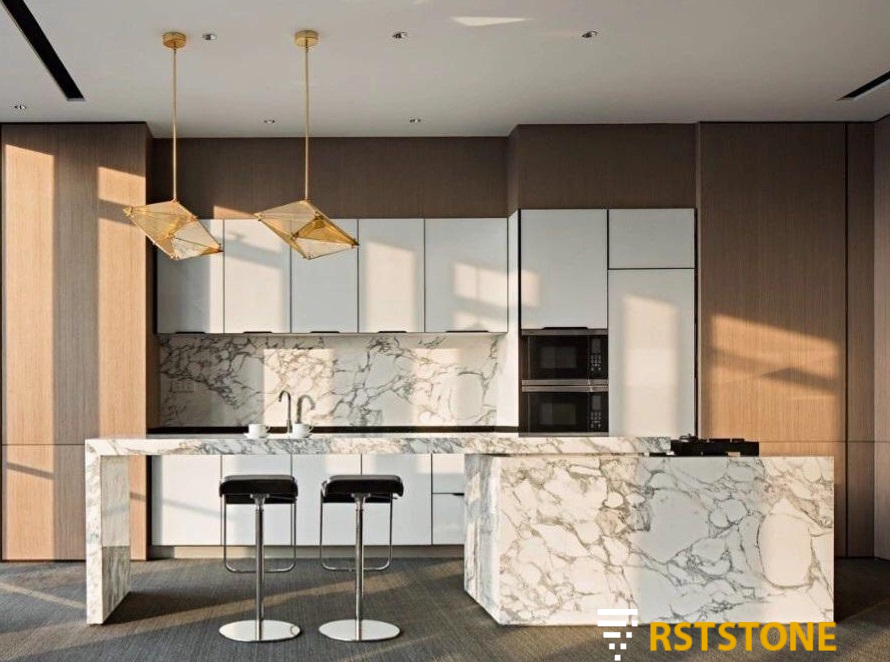 White marble countertops for kitchens
if you are thinking about using them in designing your kitchen, café, or restaurant, then do not worry. Even though simple, marble stone still looks the best. But still, there is a huge variety to this beautiful stone and you can choose any kind that suits you the best. There are pure white ones, white with streaks and greyish ones.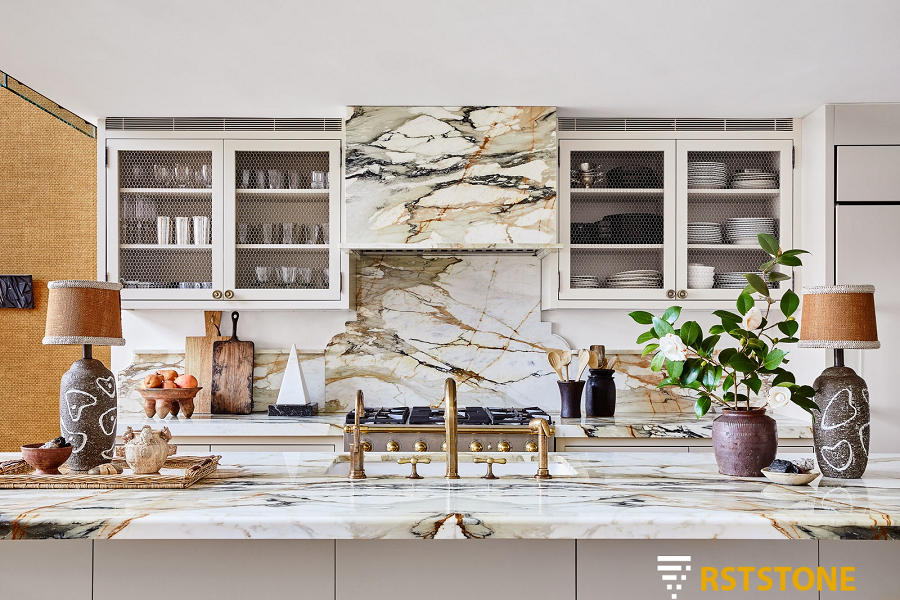 White marble countertops for bars, cafes, and restaurants
The lighter shades of marble will make a bar or café or even a restaurant look larger. Also, it will reflect the light perfectly and therefore makes the place look more luxurious. Besides, if you are looking for something strong and durable, they are the best choices. For some types of marble. the texture is made to stay safe from the stains and anything dirty. Although some types of marble stone are more vulnerable to stains.
Read more:White marble
Different countertop sizes
Like all of the other stones, marble has different sizes and thicknesses that you might change based on your purposes. When it comes to the white marble countertops, you can have them at any size that you wish and need. Usually, the most common thickness is between 2 or 3 centimeters, but as said before, it can change depending on your requirement.
How much are white marble countertops?
The prices differ depending on the size, the thickness, the style of the rock, and its color. Even though different prices can be found in the market, you still the white marble countertops are pretty a wise choice if you want to be stylish while not spending tons of money on it. Since there are lots of other styles and stones that you can choose between, we daresay that the white marble countertops are the most suitable choice for many people.
Plus, if you think the current prices are not that fair, you might want to search a little bit further. You will surely better prices but be careful that sometimes less price means less quality. After all, you pay your money and you take your choice.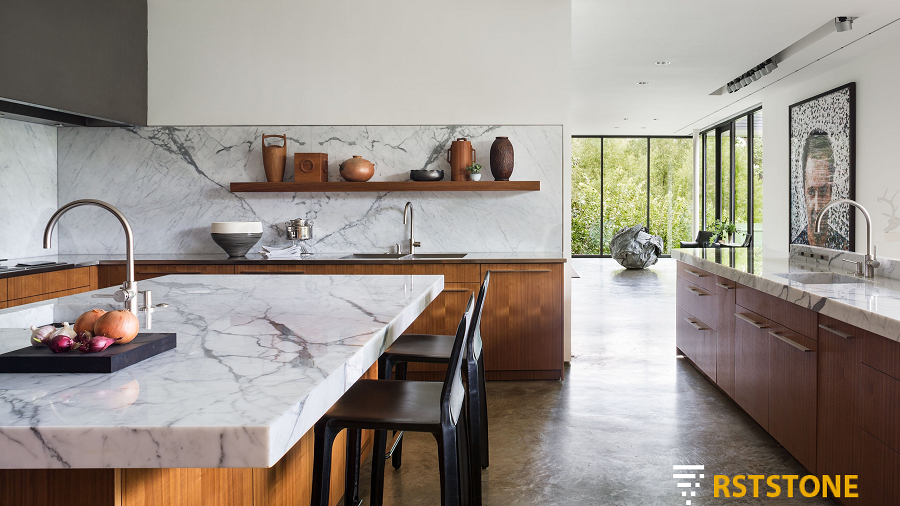 Read more:White marble tile
How to clean white marble countertops
Some types of marble stones can be easily stained. There are simple ways to clean the white marble countertops which we will look into in this section.
Some of the customers prefer to seal their white marble countertops. If you do not already know, a sealer is a special substance that you will put on any surfaces to protect it from water, air, or other types of probable stains.
The first step to keep it is to clean them regularly. The best choice is to wet a microfiber cloth with warm water and clean the surface gently. Also, there are other special cleaning substances for marble that you can use. You can use baking soda to reduce the scratches and cornflour to get rid of oil or grease stains.
For that, you have to cover the grease stain with enough cornflour and let it rest about 20 – 30 minutes to absorb the oil, then clean the cornflour with a damp cloth. One of the best ways to ignore major and common scratches on the white marble countertops is to use cutting boards instead of using the counter directly. For cleaning most of the stains you can mix water and baking soda to get a white delicate paste. Then apply a generous amount of the paste to the stain and cover it with some plastic wrap and let it be for around 24 hours or more.
Hydrogen peroxide is another substance that can be useful when it comes to the stains on the white marble countertops. Just use it with the same method as the baking soda paste. Although, you better pay attention that this method is more suitable for the white marble countertops since the hydrogen peroxide can lighten dark marbles.
Some people use sandpapers to remove the scratches on the surfaces. Since that could be risky, we suggest calling a professional to get more help.
This article ends here. We hope you find it useful and enjoy your journey to choose one of the best white marble countertops!
For more information, visit the Royal Stone website